AlkaViva Melody II Water Ionizer in Silver with Under Sink Kit
Description
add
The new 2018 Melody II Water Ionizer is the upgrade of the extremely popular Jupiter Melody Water Ionizer and is the top performing 5 plate Water Ionizer on the market today. This all new 5 plate water ionizer has been fully redesigned with a next generation SMPS power supply, DARC cleaning system and dual filtration system, like the Vesta H2 and Athena H2 it has been redesigned with Hydrogen Infusion Technology that specifically optimizes performance, especially the production of molecular hydrogen or H2.
Like the other Alkaviva H2 series Ionizers, the Melody II is the leader in the 5 plate ionizer segment. The new Melody II produces the highest negative orp of any 5 plate Water Ionizer and can generate excellent Molecular Hydrogen (H2) levels at drinking water levels of pH 8 to pH 9. Molecular Hydrogen has been scientifically shown to be the most powerful antioxidant known to man with its health benefits detailed in over 600 Medical and Scientific studies to date.
The new Alkaviva H2 series of Ionizers also have the best water filtration we've tested in any water ionizer. The Melody II is also a dual water filtration system and removes 99.9% of contaminants including chlorine, chloramine, pharma, heavy metals and resilient contaminants like chromium VI and arsenic. The new 2018 model includes UltraWater Smart Chip filters so you know exactly when to change your filters. The result is you get the safest, cleanest, healthiest, best tasting water from any Ionizer on the market today.
Most alkaline water drinkers consume water between pH 8 to pH 9 for the simple reason it tastes better than water with pH 10 or higher and it's safer too. This meant a compromise in the past, most ionizers boast being able to produce very high pH levels but at the drinking water range they often produce poor H2 and -ORP readings, that is until now, the New Melody II produces excellent –ORP and H2 levels at drinking water levels, for example at a pH of 9 we were able to achieve a -ORP of 700 with the Melody II and a H2 reading of 1.1ppm – This is market leading performance, and betters the performance of many 9 plate ionizers from other leading brands. No other 5-Plate Water Ionizer on the market today can produce such high quality purified and antioxidant water.
WaterIonizers.co.uk is the UK's largest Water Ionizer Retailer and Official UK Retailer & Agent for Alkaviva Water Ionizers.
7 Reasons to choose the Melody II
Excellent Alkaline PH Range - The new Melody II is able to produce Alkaline water with a pH of up to 10.8 making it one of the most powerful value-priced Ionizers on the market today! Drinking water with an alkalinity of pH 10.8 is not recommended, however at the optimal drinking level range of 8 to 9 pH the Melody II can produce a combination of up to -700 ORP and 1.1ppm H2, making it one of the top performing ionizers for drinking water.
5 advanced SmartDesign Plates / Electrodes - SmartDesign Electrodes are engineered to deliver maximum efficiency. The Melody II offers you the perfect combination of electrode design and count and the optimal power to run them. The result is a great flow rate, top performance, absolute reliability and lasting durability.
Highest H2 performance at lower, drinkable levels of pH which tastes great! - Most other systems can create at least a low level of H2. However, any system that creates decent H2 has to run at a maximum setting and produce water above 10 pH to achieve that result. Not only is it questionable in health terms, but water that high in pH tastes bad! It also stresses the electrodes. The Melody II is better than other overpriced systems at delivering H2 performance, especially at lower more drinkable - and safer - pH levels.
Fully automatic DARC Cleaning System - Cleans the Ionizer with every use. Alkaviva pioneered DARC cleaning. This is simply the best way to help ensure that the most critical component of the ionizer – the electrodes – stays free of scale buildup.
Real-time Flow Control System - Optimal flow rate is also critical in achieving optimal pH, ORP and hydrogen performance. The Melody II Real-time Flow Control System provides an LCD display and a selectable valve that allows you to set easy and precise control of your flow rate.
Price - The Melody II delivers exceptional value for money from one of the worlds most established Ionizers brands when compared with more expensive overpriced Ionizers in pH, ORP and H2 metrics.
5 Year Full Warranty - 5 year warranty with dedicated UK service centre.
H2 Hydrogen Performance
Ionizer performance used to be entirely focused on pH/ORP and the number of plates/electrodes an ionizer had. While pH/ORP are exceptionally important in alkalizing and detoxing our bodies water filtration and Ionizer science has moved on with a focus on H2 performance. H2 has been shown in over 600 studies to give a therapeutic benefit in 140 health conditions and disease models.
How Alkaviva water plates create H2
The water cell or plates- the engine of the ionizer - has two components: electrodes and (ion exchange) membranes. Ionizer performance used to be entirely focused on pH/ORP and the electrodes. H2 Infusion Technology is based on the fact that membranes are as critical as the electrodes. Many ionizer manufacturers buy their membranes from outside sources. In comparison, Alkaviva membranes are made in-house and are ultrasonically pressed, rather than bonded with chemicals. This provides you with a distinctly superior membrane that is designed to work specifically with Alkaviva electrodes, giving unmatched performance. When you marry advanced SmartDesign electrodes with infusion membranes, the result is H2Infusion Technology and better H2 performance. This is especially so at the better tasting lower levels of pH.
Benefits of H2 Hydrogen
Antioxidant Power - Increases in oxygen can produce free radicals, leading to chain reactions and cell damage. Oxidation is literally the aging process while antioxidants prevent or slow down the oxidative damage. Most antioxidants neutralize bad radicals, but they can also neutralize the good ones that your body needs. Molecular hydrogen selectively targets only the damaging oxygen radicals, leaving behind the good radicals. This makes it a superior antioxidant.
Improves Hydration - When H2 molecules combine with and neutralize damaging oxygen radicals, they are transformed into water (H2O) - increasing your cellular hydration. The ionization also creates a light, silky-smooth tasting water that is easy to drink.
Increase in Energy - Adenosine Triphosphate (ATP) is the fuel that powers your cells during physical activity. Drinking H2 infused UltraWater helps maintain the high ATP production needed during exercise - providing optimal strength, endurance and recovery.
Reduced Muscle Fatigue - Lactic acid buildup leads to fatigue, muscle damage, decreased endurance, reduced performance, and poor training results. Peer-reviewed research on athletes shows that molecular hydrogen decreases lactic acid levels.
Fight Free Radicals - Drinking hydrogen-rich alkaline water is the perfect way to mount a defence against free radicals, which are responsible for oxidization – or decay – within our bodies.
Gum and dental health – A 2014 study showed that hydrogen water can improve gum health, and also help to neutralize acids in your mouth following a meal or snack. For more information see - http://www.ncbi.nlm.nih.gov/pmc/articles/PMC4078318/
Hydrogen Water Effect On Diabetes - In 2008, a team of Japanese researchers carried out an experiment using 30 subjects with type 2 diabetes. Over an eight week period, the subjects who were given hydrogen-rich water to drink on a daily basis presented with greater levels of improvement in their diabetes-related symptoms. The implications of this research are pretty far-reaching and encouraging! For more information see - http://www.ncbi.nlm.nih.gov/pubmed/19083400
Alkaline Hydrogen Water Might Help To Prevent The Loss Of Cognitive Ability - A recent study using mice as the test subjects, showed that mice which drank hydrogen water experienced less neuro-degeneration than the mice which drank regular water. J Clin Biochem Nutr 46:269-76 (2010). For more information see - http://www.ncbi.nlm.nih.gov/pmc/articles/PMC3731457/
For more studies on the benefits of Molecular Hydrogen visit the Molecular Hydrogen Foundation - http://www.molecularhydrogenfoundation.org/studies/
Alkaviva H2 Models Comparison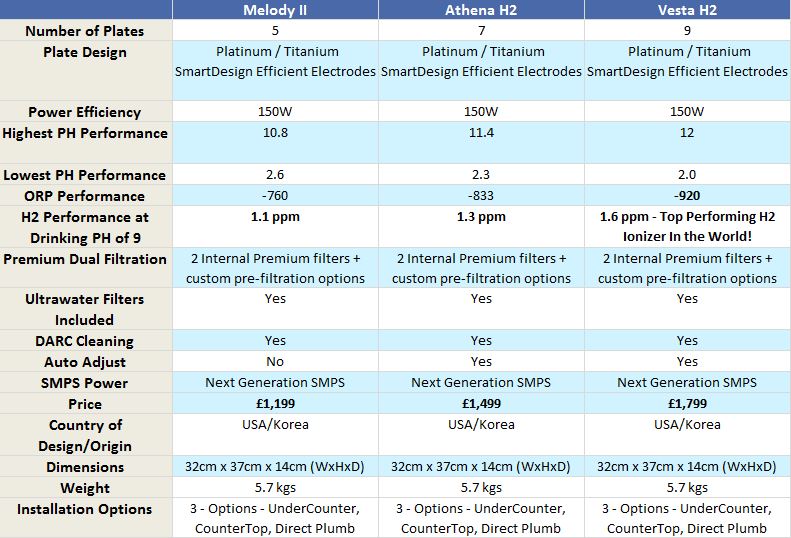 Testing the new Athena H2 Versus Enagic / Kangen, Tyent and older Athena and Vesta models
In this detailed 36 minute video Cathleen Lograsso of Alkalinewaterplus.com compares the all new Alkaviva H2 range, specifically the Athena H2 against the Enagic / Kangen, Tyent and older Athena and Vesta models. The results are remarkable. You can read her full report here where she details the performance of each model at each pH setting for ORP and H2.
Technical Specifications
pH Performance: 2.6 to 10.8 pH range*
ORP Performance: up to -760 ORP*
H2 Performance at Drinking pH of 9: 1.1ppm*
Warranty: 5 years domestic warranty from our dedicated UK service centre
Rate Voltage: 220V-240V
Power Supply: Next Generation SMPS with AutoAdjust
Dimensions: 12.5" x 14.5" x 5.5" (WxHxD)
Weight: 12.75 lbs (14.75 Shipped Weight)
Water Pressure Available: 15 - 90 psi
Tap Water Temperature Available: 40 - 86F
Protection Devices: 2 built-in temperature sensors
Electrolysis Method: Continuous
Electrodes: 5 SmartDesign Platinum / Titanium
Generating Capacity: Standard (1.5L/min. at 28psi), Max (3.5L/min. at 90psi)
Setting: Alkaline Water (5 Levels), Purified Water, Acidic Water (2 Levels)
Cleaning: DARC Cleaning System - Dual Automatic Reverse Cleaning
Filter Replacement: Cartridge Type 1 Filter
Filter Life: 4,000 litres / 1 year
Voice Recognition: Yes
Display: Negative LCD
Display Control: Full Touch Screen (Letter and Image)
ON/OFF Valve Method: Real-time Flow Control System
AlkaViva UltraWater Filter Performance Data Sheet
Leading Certifications

The new H2 range of Alkaviva Ionizers are designed and developed to the highest possible international standards with 13 top certifications including ISO 9001 and 14001, UL standard for Low voltage electrical, NRTL, CE and KFDA.
*Achieving high and low pH, ORP and H2 levels depends on the quality of the source water. Results can vary depending on mineral concentration of water, hardness or softness of the source water, initial pH level of water and speed of water flow. Alkaviva water ionizers produce consistently higher levels of pH, ORP and H2 than other brands tested. We will guarantee if a customer can show in the first 30 days after purchase that an Alkaviva ionizer does not outperform any other brand ionizer using the same number of plates and the same water source, then we will gladly take the ionizer back and issue a refund.
Save
Save
Specifications
add
Brand:

AlkaViva
Model:

Melody II
Cleaning System:

DARC II Technology
Filter Capacity:

3780 Litres (1000 Gallons)
Filter Life:

6 - 12 Months
Ionizing Plates:

5 Smart Electrodes
Maximum H2 Level:

1.0 ppm
Maximum ORP Level:

-400 +/- mV
pH Range:

pH 4.5 to pH 10
Voltage:

220 - 240V
Warranty:

5 Years
Wattage:

150 W
Depth:

14.0 cm
Height:

37.0 cm
Width:

32.0 cm
Weight:

5.7 KG